Quick Details
Place of Origin:

Shandong, China (Mainland)

Brand Name:

Shengde

Model Number:

330GLM - 440GLM - 460GLM

Material:

PE

Thickness:

250micron -350 micron

Size:

Make to order

Color:

Any Color In Pantone Cards Available

Quality:

100% virgin & Virgin and Recycled Mixed
Packaging & Delivery
1. Roll Packing with Paper Tube Core, Then Wrapped in the Same Tarpaulin Sheet.

2.1 x 20'GP can Load Around 17 tons, 1 x 40'HQ can load 26-28 tons.

3. Within 30 Days from Receipt Date of Deposit.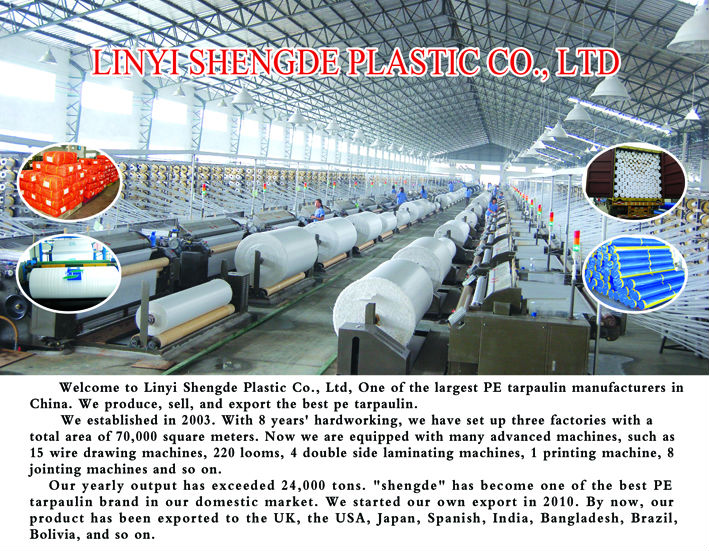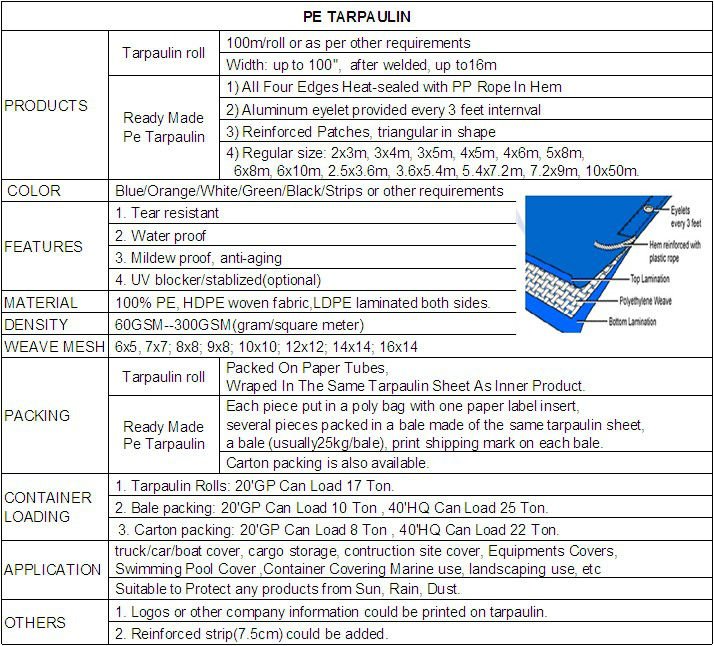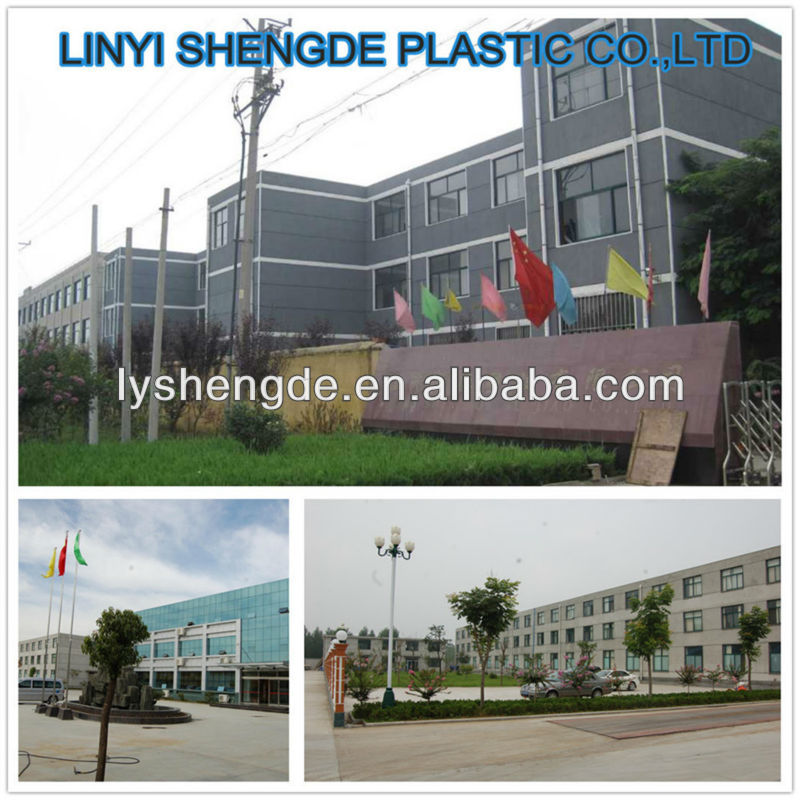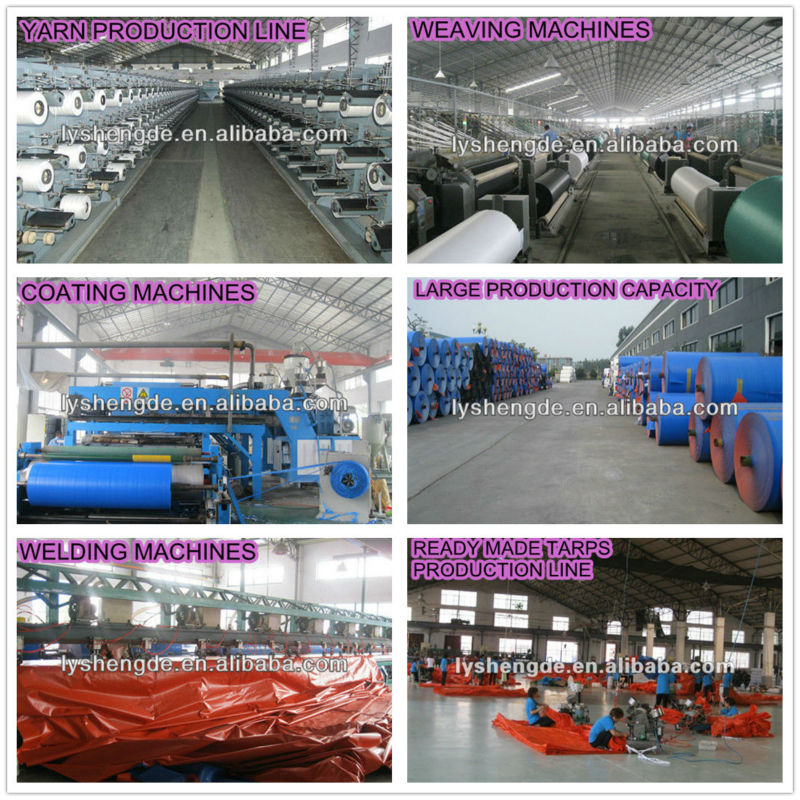 WARNING: MANY SMALL FACTORIES ARE USING OUR PLANT PHOTOS IN THEIR WEBSITES, TO CHEAT BUYERS
WHO DON'T VISIT THEM.
OUR SINCERE ADVICE: WE WOULD LIKE TO ADVISE YOU TO VISIT THE REAL FACTORIES BEFORE SETTING YOUR
ORDERS. IF THE SUPPLIERS CHEAT YOU IN ADVERTISEMENT, THEY MAY CHEAT YOU IN GOODS, TOO.
Hot Sale PE Tarpaulin Rolls In Malaysian Market,
Dark Blue/Orange PE Tarpaulin Rolls, Made of 100% PE(100% Virgin PE or Mixed Material of Virgin PE and Recycled PE),
White & Transparent Inner Fabric HDPE Woven, Both Sides (Dark Blue/ Orange) LDPE Laminated,
330GLM & 420GLM & 460GLM Dark Blue/ Orange PE Tarpaulin Rolls are Most Popular With Malaysian Market,
Mesh: 14 x 14(330GLM ) , 16 x 14(420GSM & 460GLM), All Four Edges Heat-sealed With PP Rope In Hem,
One Aluminium Grommet Every 3 Feet or 1 Meter Interval And On Four Corners ,
Reinforced Plastic Patches On Four Corners,
Packed In Bales Made Of The Same Tarps,
Each Piece Put In Poly Bag With One Color Paper Insert.
Quality Guaranteed
As Chinese Largest PE Tarpaulin Manufacturer, we are sure of our product's quality. All process including raw material
buying, tapes drawing, inner fabric weaving, product coating, ready made production, and packing are all managed by
ourselves. So we can guarantee the quality of our product.
Choose Us or Not?
If you only pay attention to prices, we have to admit that we are not your first choice. If you want to find Poly tarps with
price and quality balance, we are just the right manufacturer you are looking for.
Fast Market Occupying
We keep our quality steady and reliable. We never compromise in quality to match customers' target prices. So we have
grown so fast-- from a small factory with 5 persons to Chinese largest PE tarpaulin manufacturer with more than 700
workers in the past 12 years.
Advertising Aid --Logo Print Service Available
Now most of our product are printed with our company logos. In this way, customers can feel the life time difference and
differentiate our product from products from small factories. And now we also print our foreign customers' logos to help
them advertise in their own market.. Now orders from both domestic market and foreign markets become more and more day by day.
Management Systerms
Customers' Comments are Our Best Advetisements!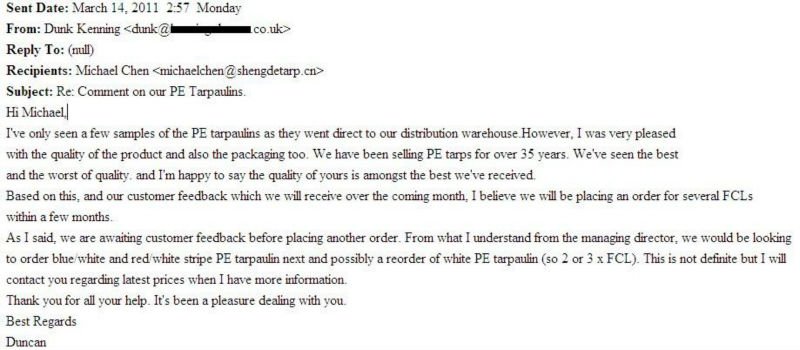 PLEASE FEEL FREE TO ConTACT US WITH ConTACT INFORMATION AS FOLLOWS:
Michael Chen (Sales Manager)
Mob. No.: +86-13793915133
Skype ID: shengdetarp
Wechat ID: MICHAEL008A
Website: www.shengdetarp.en.alibaba.com